We Will Remember
"
When the last fire is quenched and the devil is dead, what will become of our firefighters? No, that's just an idle fantasy. We'll always have our firefighters, because fire is an old god who is with us forever. We'll honor the bravest and treasure them right there in the firehouses we've come to revere.
...
We don't have to go to the movies anymore for our heroes. We don't have to turn on the television. Our heroes are down the street, chatting at the firehouse door, ready to face the old god.
"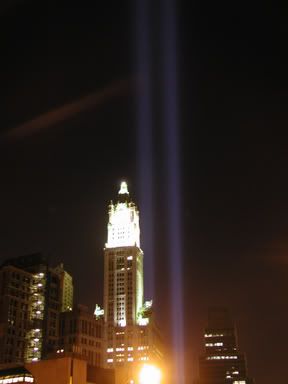 In my family, today is an especially sobering day. Not only do we, as a firefighting family mourn the loss of so many of our "brothers" taken so tragically four years ago; but we also recognize the mortality and selflessness of each man and woman who comprises "America's Bravest" everyday.
Just two months after the September 11th tragedy, my dad and his fire crew made a trip to New York. They went to personally deliver the $40,000 they had raised in our community. More than that, they went to support and encourage the FDNY firefighters who survived.
Their crew spent almost a month in the various stations, helping to rebuild, repairing what equipment they could, and helping their "brothers" through the grieving porcess. It was a very powerful and meaningful experience for everyone involved and these trips have continued every 18 months since then.
"
The brotherhood to which all firefighters belong has the hardest job of all~ to live with the loss of their fallen. For brotherhood is a two-edged sword; it's those very bonds, so close and caring, that make the hurt so bad. If even one of their number falls, thousands feel it as a personal loss and hundreds will turn out for the funeral. Imagine the pain when hundreds fall. But they have this strenght to draw on. You can see it in their eyes. If brotherhood hurts, it also heals. Because above all, brotherhood endures. It has, for almost one hundred and fifty years and will for hundreds yet to come, facing down the inconceivable and the unimaginable, denying victory to despair, strong in the knowledge that this, too, shall pass.
"
~Frank McCourt from the book, "
Brotherhood
"
**quoted with utmost respect but not permission**