Fruit Loops, Dirt and Monkeys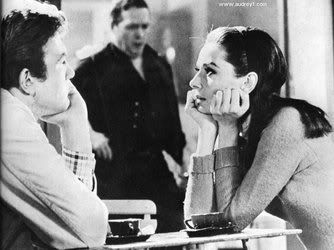 Five Thousand Years
by Viggo Mortensen
It's a long, long way
made of stone
from Omaha to Cairo.
From the riverbank
through the dying fields
across the sea
to the bloody quarries
where they keep digging
for rulers
while school bells
echo
North and South
off the twin brown
mirrors of the Missouri
and the Nile.
Reading this poem made me think back to my first semester of college after high school. (I phrase it like that because I took college classes while I was still in high school.)Anyway, I took Physical Anthropology with
Dr. Monkey-man
(as we called him) who just happened to have one of the cutest teaching assistants i have ever come across. Jim was smart, funny, incredibly hot, a closet punk and...an archeologist?
Besides music most people have never heard of, his passion was archeology...at the age of 24 he had already been on some significant digs in this country. I loved listening to him talk about what they had found and how important it was to preserve this history for future generations.
He was of the philosophy (much like Kalohe) that the reason we have knowledge is so we can share it with others. That said, the man spent hours upon hours teaching me to understand genetics. For a smart girl, I was completely dull when it came to genetics. I failed that particular section twice in high school. But he was convinced that I could learn if only someone took the time.
THat class required us to log many, many observation hours at the local zoo. (I can tell you more about chimpanzees and lemurs than I would care to admit) Well if his students had to be there then Jim would be there too. We spent hours watching the chimps, talking about life and relating genetics to real life.
I did learn enough to pass the class and I did eventually understand genetics...everything I need to know can be summed up with a box of Fruit Loops.
It's been years since I have seen Jim, but everytime I read about an important dig I look to see if he's gottent he break he was waiting for.